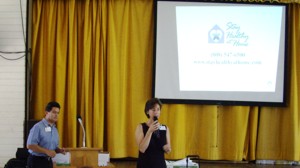 Click

here to listen.


Notes from August Luncheon:

Jacob Silva: St. Francis "Staying Healthy At Home"

Staying Healthy at Home is a health and wellness program designed for healthy seniors as well as for seniors and individuals living with a chronic condition who enjoy their independence but may require assistance with daily activities. As an alternative to assisted living facilities and nursing homes, it acts as a one-call center for all the services you may need.

The annual membership fee of $600 per person, $900 per couple includes home safety evaluation, health screenings, weekly follow-ups, chronic disease management, pharmacist medication reviews, initial consultation for estate planning, invitations to educational seminars, volunteers to assist with errands and light housekeeping.

Other services such as yard service, transportation, adult day services, personal medical alert systems, bathing & personal services are available on a fee-for-service basis.

If a member is no longer able to stay at home, a social worker will help find an appropriate placement.