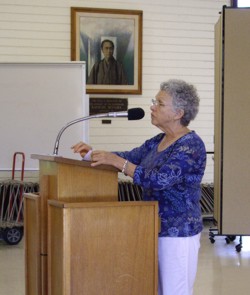 Click

here to listen.


Speaker: Patricia Urieff, MSW, ACSW, LSW, employed with twenty-four years of experience providing social work services to children and families including grandparents raising grandchildren.

Right-click to download handout: Identification of Key Issues (pdf).


Notes:
About 14,000 grandparents are raising about 35,000 grandchildren in Hawaii. However, they are forgotten in government materials listing resources available for caregivers. Not only do grandparents not know of resources but there is also a lack of communication between government and school administrators about their rights even when they present an official affidavit entitled Caregiver Consent. This affidavit, for example, permits grandparents to participate in parent-teacher conferences, permission for their grandchildren to participate in after school activities and for health care. Some schools do not notify them of these activities.

Other issues:

Statewide, seniors living in elderly public housing receive eviction notices whenever they provide care for a grandchild-in-crisis. They instead need reasonable time to find other affordable housing.

When a grandchild is removed from a home and placed in foster care, grandparents are often not thought of as a suitable, willing placement.