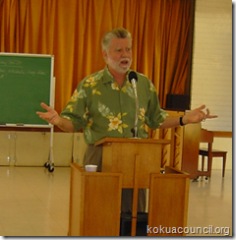 Click

here
to listen.
Doug Carlson was spokesman for Hawaiian Electric Company during Hurricane Iwa – which struck 25 years ago – and numerous other power outages in the 1980s. He has maintained a professional interest in emergencies and consults with clients on these and other communications issues.
In this talk Doug reviews problems with the planning process for Hawaii's emergency communications. He recounts his experience during Hurricane Iniki and relates that to current issues.
Apologies for the poor audio quality.