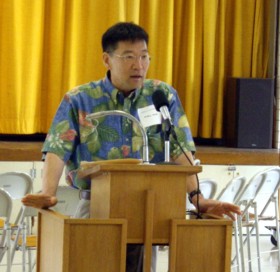 Click

here to listen.


Speaker: Karl Kim, Ph.D., UH Manoa Department of Urban and Regional Planning "PLAN 670 - Overview of Disaster Management and Humanitarian Assistance". Kim received his Ph.D. in Urban Studies and Planning from the Massachusetts Institute of Technology.

Notes:

Our luncheon speaker Karl Kim, is Professor of Urban and Regional Planning and Director of the UH Program on Disaster Management and Humanitarian Assistance. He has received more than $10 million in extramural research grants related to transportation, environmental management, urban planning and disaster management.

"The point I'm trying to make is that our society has known of these tremendous risks and threats to our communities across the planet yet we have not done enough to prevent the loss of lives and injuries and all the disruptions to our economies and communities. Planning for disaster is not enough.

"Hawaii is very different from the mainland. We can't jump into our cars and drive away from an approaching storm. We need to develop more extensive shelter-in-place strategies.

"The challenge is not just to develop the best tools for predicting and managing disasters but also ensuring that those most vulnerable to these natural and technological disasters have access and knowledge and training and resources necessary to use these tools in order to save lives, prevent injuries, and reduce the loss of income, jobs, property and other necessities of life."

Kim believes there should be more direct involvement of the community in the development of plans and strategies for preparedness, response and recovery. First responders are also families and neighbors and need to plan and communicate with each other.

He therefore asked the audience for suggestions. Some of the suggestions:

• The telephone book tsunami pages are not the same as the Federal guidelines and should be changed.
• Warnings, evacuation information and shelter sites are not communicated well.
• Plans for different kinds of help should be tailored to the needs of vulnerable people.
• Problems with condos were repeatedly mentioned with many condo managers and boards resisting making plans because of liability concerns.
• A law is needed to demand condos plan for disasters.