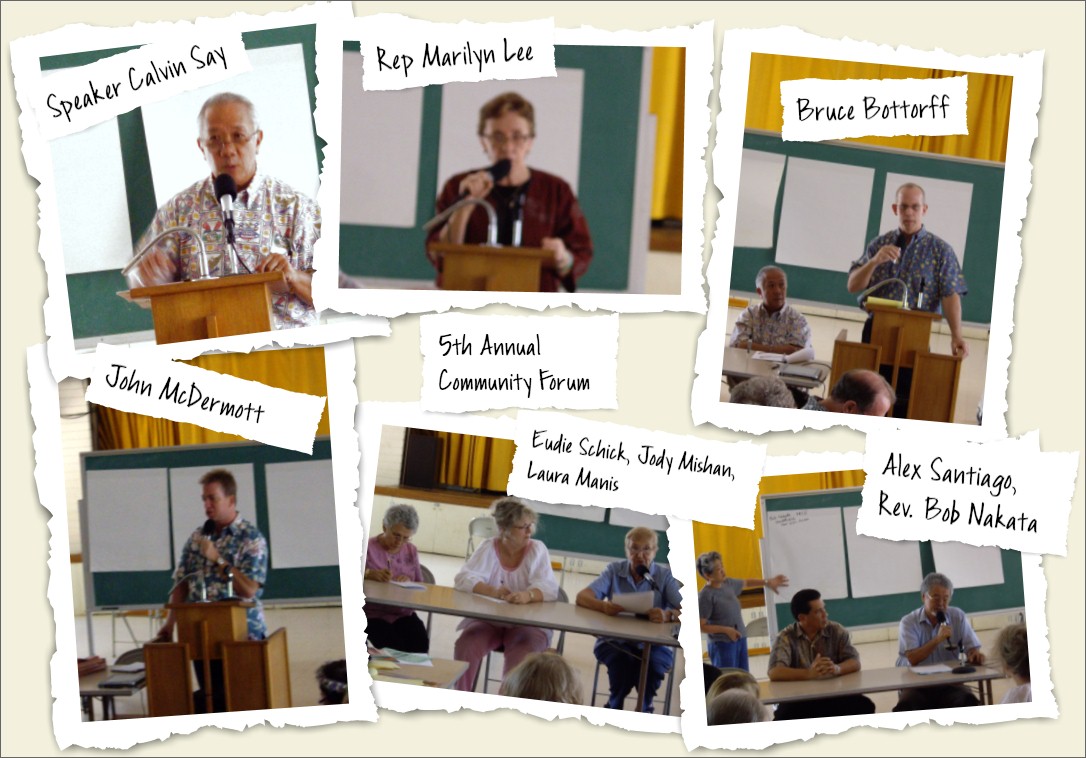 Click

here to listen.

Panelists on the recording:

Panel 1:

Speaker Calvin Say
Rep. Marilyn Lee
Bruce Bottorff, AARP Hawaii

Panel 2:
John McDermott, Long Term Care Ombudsman
Eudie Schick, Chair, PABEA Legislative Committee
Wes Lum, Caregivers Coalition
Jody Mishan, former caregiver, Genius of Aging Documentarian
Pat Urieff, Grandparents Raising Grandchildren Task Force
Rev. Bob Nakata, FACE
Alex Santiago, Phocused

---
This Year was Different
The fifth annual Kokua Council Community Legislative Forum brought together over 60 representatives of government, community organizations and concerned individuals to discuss community needs and concerns and to share ideas for legislative action in the coming session. The discussion this year of both the panelists and the audience were colored by the concern of everyone of a budget shortfall, the economic crisis and personal worries about making ends meet.
The Forum helps Kokua Council identify those issues that should have top legislative priorities for our organization. And, finally, the Forum is a way to encourage organizations to work together to achieve common goals and objectives. Kokua Council will continue to support past issues that are still pending. The following presents a summary of the issues presented.
Speaker Calvin Say
related the worries of his constituents as he walked door to door in his district. "The reality is all cost except gasoline is 30% higher. At the end of last year's session there was a 3.9 million surplus, by 2009 there will be a 160 million deficit. This has already had an impact on Keiki health. If there is no work, there is no money. No money can lead to abuse." Believes every child should have access to health care and education.
Rep. Marilyn Lee, Co-Chair of Jt. Legislative Committee for Aging in Place
: The committee is spear-heading studies on Kupuna Care, Grandparents raising grandchildren, Paid family leave for working caregivers, cash and counseling (enabling families to choose services), compiling a Respite Inventory and Aging and Disability Resource Center progress update. These studies will provide the basis for making legislative decisions. JLCAP is looking into licensing home care agencies, access to healthcare, education and safe homes.
Bruce Bottorff, AARP
: Supports the Long Term Commission financing (see below), access, and quality, Support for expanding home and community based services options for long term care, developing workforce for long term care, pedestrian safety and grandparents raising grandchildren.
Q and A
: Support legislator's pay raise? Say: "I will recommend the raise be suspended for two years if I am still speaker". ( You heard it here first).
Why are long term care facilities so expensive here? Lee: We have fewer facilities and higher standards than most states. Medicaid pays for a disproportionate number patients to go to nursing homes.
Say
: How to handle the deficit in funds? Look at all the tax credits to see which can be eliminated, furlough employees rather than lay them off. No gambling. Maintain health, human services and education.
Suggestion from audience: Change drug policy to treatment instead of high cost incarceration.
John McDermott, LTC Ombudsman
: Public posting of results of inspections of care homes and foster homes to help families decide. Too many complaints of case manager fees, should be reexamined. Wants another LTC Ombudsman on a neighbor Island. Funeral trusts need more regulation.
Eudie Schick, PABEA Legislative Committee of Executive Office on Aging
: Support for grandparents raising grandchildren, support and release of funds for the LTC Commission, Kupuna Care, ADRC(1 stop access). Department of Aging, LTC ombudsman.
Wes Lum, Caregivers Initiative
: Develop respite services for caregivers, cash and counseling (consumer choice), Paid family leave for employed caregivers, Grandparents raising grandchildren and the one stop center(ADRC).
Bruce McCullough, HI Alliance for Retired Americans(HARA) as read by Laura Manis
: Financing LTC, support for family caregivers and community services, reductions in Rx drugs, universal health care, LTC Ombudsman, a Department of Aging and regulating Prepaid Funeral trusts.
Rev. Bob Nakata, FACE
: Concerned about the new Expanded Care Quest program. Clients have only 2 choices, why did the 2 mainland companies get a tax rebate? How will they provide services on neighbor islands with few service providers? Increase Medicaid reimbursements to MD's and hospitals. Universal health care.
Pat Urieff, Grandparents Raising Grandchildren
: Grandparents need children's programs, financial assistance, respite, and rights with emphasis on policies that assist grandparents who are sole providers for their grandchildren.
Jody Mishan
: Build a pro bono relationship of financial professionals who would be willing to adopt a family caregiver and provide continuing financial assessment, counseling and tax help.
Alex Santiago, PHOCUSED, Protecting Hawaii's Ohana, Under-Served, Elderly and Disabled
: Develop a unified, collective force leading to public policy actions statewide. It plans to train, mobilize and work collaboratively with government officials, elective officers, public agencies and concerned citizens to develop and sustain an effective system of services to address the health and human service needs throughout the state.
---
Ballot Results
The audience was asked to list their top 3 issues of concern to give guidance to the Kokua Council Board in selecting priorities to pursue in the 2009 legislative session. Because of the wide spread of concerns, the issues have been arbitrarily listed in 5 categories in order of a compilation of the most votes.
1. Caregiver Support (16) includes Grandparents Raising Grandchildren, respite services, release of funds for Kupuna Care, tax credits for caregivers, paid family leave and financial security.
2. Financial Security (14) Maintaining Social Security, raising taxes on higher brackets, affordable housing, concern regarding the high cost of food and housing, against gambling, change drug policy from high cost of incarceration to lower cost for treatment, affordable mass transit.
3. Health (12), Support for universal health, lower Rx costs, raise Medicaid and Medicare reimbursement, concern regarding Quest Expanded Care, help for single people with no caregiver.
4. Long Term Care (12) Funding for services, one stop center(ADRC), aging in place, workforce development, and case management, cabinet level Department of Aging.
5. Safety/Abuse (9) Pedestrian safety, LTC Ombudsman expansion to neighbor islands and publishing evaluations of care and foster homes, domestic violence, regulation of Prepaid Funeral Trusts.